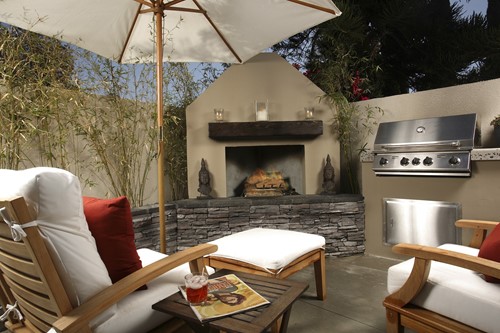 You just bought the perfect house – or you're ready to make an offer on the perfect home – but the backyard leaves something to be desired. Sure, it has a pool and a hot tub, but the rest of it leaves you wanting more. Convert your backyard into an ultimate party area if you love to entertain.
Clean Up
Go through the backyard and clean up any brush, old plants you don't want and remove any flower beds that you don't want or plan on replacing. Once you have everything you don't want out of the backyard, you have a working space. If you plan on refurbishing the decking and screen around the pool and hot tub, do that before you start the rest of the landscaping.
Design Your New Backyard
Before you even get started, take measurements and create a plan for your new backyard. If you start adding things as you go, you may find out that you'll run out of room or may not like how they look once they are installed. Avoid wasting time with doing things over by creating a plan first.
Ideas for the Perfect Outdoor Living Area
Build a stage with a dance floor next to the pool or behind the pool. Keep in mind that you'll probably want electricity out there to plug in speakers, amps and such. You might like lights around the dance floor. Either put this area close enough to the house to reach outlets or run underground electricity to a pole with a second breaker box. Run wiring for several outlets in the base of the stage and dance floor from the breaker box. Just be sure everything is rated for outdoor use, including the outlets. You can "hide" the pole by putting plants around it or building a wishing well or other decorative structure over the pole.
If no patio exists or the current one is too small or just looks bad, build a patio or a deck. If you want an outdoor kitchen, keep that in mind so that you plan the patio or deck appropriately. You may want to put the grill area under a gazebo built into the patio or deck, or you may want to have a covered deck to protect your outdoor kitchen from some of the elements.
When you design the outdoor kitchen, be sure to design a way to cover the grill and counter area in inclement weather, whether you have a hinged cover to protect the entire area or you cover the grill and counters with a large tarp designed for the area.
For those times when you want to entertain without a live band, add exterior speakers to the deck or patio. Build a waterproof housing for a stereo or have wires fed through the ceiling and/or walls from the sound system in your living room to external speakers out on the deck area.
With proper planning and accounting for the area of the country you live in, you will be able to create an outdoor living area for entertaining yourselves or your friends and family.